Case Study
Using technology to support great customer service. Majestic Wines uncorks the secret

Background
Majestic Wines is the United Kingdom's largest specialist wine retailer with a portfolio of 210 stores across the UK and a further two stores in France. Proving a great customer experience should be the mantra of any good retailer and when it comes to the purchase of fine wines, then that experience requires a different level of personal customer interaction.
Majestic Wines selected Ergonomic Solutions' long-time partner, KFP Total IT Solutions to provide the configuration and installation services of the new font of house point-of-sale checkouts across their entire retail estate deploying two POS and payment stations per store.
The hardware rollout was to replace the aged installed base of POS hardware with a state-of-the-art solution featuring the HP Engage One point of sale system.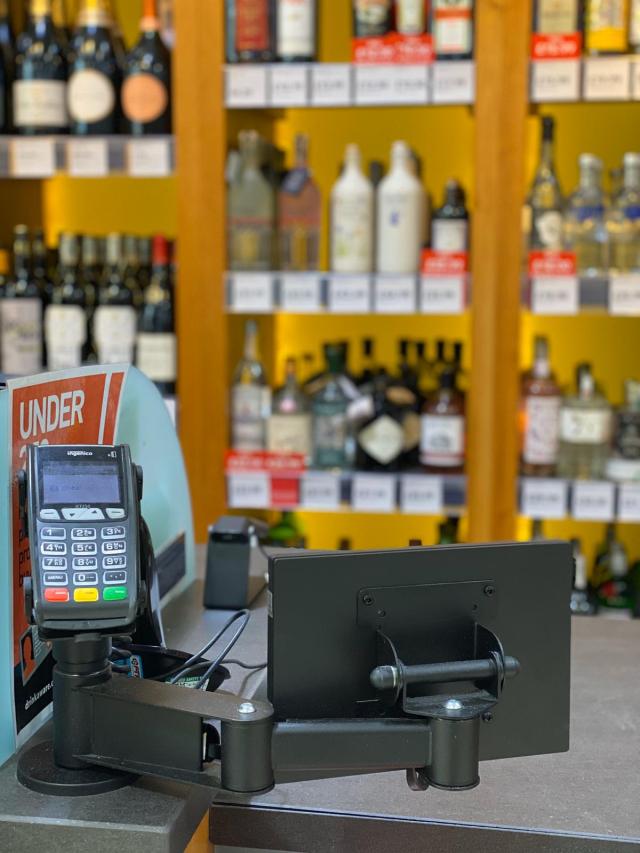 The solution
To enable the best customer-operator personal service , the HP Engage One point of sale system was mounted using a customized SpacePole solution involving the addition of an elbow arm POS mount for the touchscreen enabling rotation from the operator to the customer as an easier method for checking orders and customer information. This solution was incorporated into all 420 point of sale and payment stations.
Majestic Wines were also upgrading their payment terminals to Ingenico's iCT 250 as part of the same rollout and Ergonomic Solutions provided a secure customized payment mounting solution for those terminals.
With KFP's and Ergonomic Solutions combined experience and longstanding partnership, ensured that both organisations were able to work together to provide a seamless transition without any in-store disruption.
Majestic Wines benefited from working with Retail IT partners with the relevant experience in both hardware and retail software to make the rollout a success. The rollout required reliable, resourceful, and highly flexible partners to meet the project demands within the proviso that all works were completed before the start of Majestic Wines peak trading period.
Project Excellence
With over 40 years combined experience, in providing retail IT projects, KFP and Ergonomic Solutions were confident that not only could they provide Majestic Wines with a full scale 210 store POS rollout including (cabling, installation, procurement, and helpdesk support) achieving it well within budget and required time scales.
Ergonomic Solutions is an established, leading global supplier of innovative and ergonomically designed technology mounting solutions for the retail, hospitality and transportation industries and an expert in mPOS and mobile technology mounting solutions that enable frictionless transactions with less personal contact.
For more information, contact info@ergonomic.solutions
or call +44 (0) 1372 728872
or