Case Study
Aiming for 80% cashless payments across Ireland's most famous sporting venue
Background
Ireland's Dublin Croke Park Stadium is one of Europe's largest with a capacity of over 82,000. It is home to the Gaelic Athletic Association and has played host to countless sporting, cultural and international events.
With the specific challenge of catering for such large numbers within a very limited timeframe, Croke Park took the decision to move to a cashless payment solution model across most food & drink concessions within the stadium. This fundamental change will support its vision of providing the fastest possible service to patrons with a view to reducing queueing times for fans, giving them increased time to enjoy their experience at the Stadium.
The Solution
Working with AIB Merchant Services and VISA, Ergonomic Solutions supplied its Spacepole DuraTilt as the preferred mounting solution for over 400 Clover Mini terminals installed across the stadium's 90 concession units. Manufactured in metal on the SpacePole DuraTilt bracket, the solution presents the customer with an easy to use cashless payment option and hardware protection for the operator's terminal – both of which are critical elements in a tough working environment such as a stadium.
Simple to install the solution used a compatible SpacePole MultiGrip™ adapter plate, which ensures that should the payment device be upgraded, it would just be a case of simply swapping the MultiGrip plate with one compatible with the new device therefore minimising further investment by leaving the SpacePole in place.
A win for everyone
With all parties working together, the roll-out ran to time, and once live, instantly resulted in 80% of transaction locations being totally cashless. Croke Park will still maintain limited cash services across its food and drink concession units, with one till at each unit still accepting cash for those wishing to use it. However, the stadium is encouraging visitors to remember to bring their digital wallet,debit or credit card with them to avoid potentially longer queues when choosing to pay by cash.
The installation of the SpacePole mounted Clover Mini Terminals has provided Croke Park with market leading technology to make the customer experience seamless. Michael Teahan, Financial Controller, Croke Park Stadium said "We are pleased to implement the Clover payment solution throughout Croke Park. The increased transaction speed and shorter queue times at our food and beverage units will help to enhance the customer experience and internal efficiencies."
Products used in this solution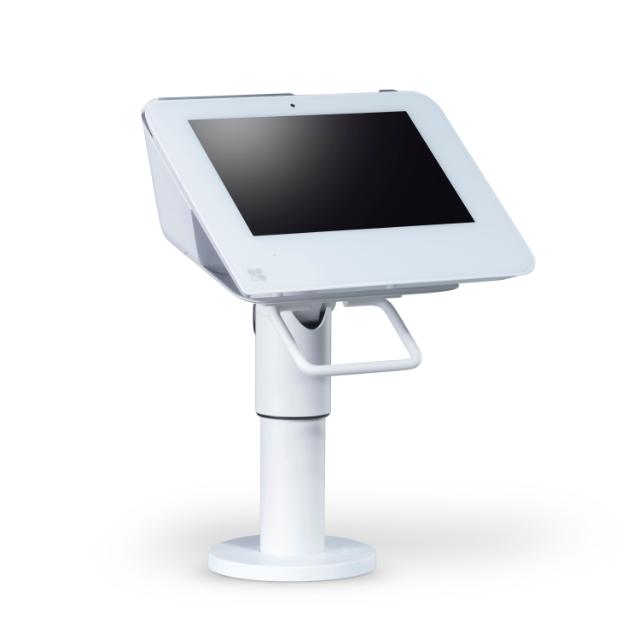 Clover Mini mounted on our patented DuraTilt® payment mounting solution
(FDC101-D-32) - Front view
Clover Mini mounted on our patented DuraTilt® payment mounting solution
(FDC101-D-32) - Rear view
Ergonomic Solutions is an established, leading global supplier of innovative and ergonomically designed technology mounting solutions for the retail, hospitality and transportation industries and an expert in mPOS and mobile technology mounting solutions that enable frictionless transactions with less personal contact.
For more information, contact info@ergonomic.solutions
or call +44 (0) 1372 728872
or