Bringing SpacePole® to RFID: A proven game changer across retail for both customers and your business
Poor inventory management costs retailers approximately $2 trillion annually, with an additional $100 billion lost due to theft in the US and UK. RFID (Radio Frequency Identification) technology has emerged as a potentially game-changing solution. Affordable RFID tags, as low as $0.10 each, allow individual product tracking. Addressing the challenges of self-checkouts, which have led to an increase in theft incidents.
Benefits for the Retailer:
Inventory visibility
RFID enables real-time, accurate inventory management by tracking products throughout the supply chain. Large vertically integrated retailers can maximize the benefits of RFID through source tracking. The earlier a product can be tagged the greater visibility management have of where it is in the supply chain, this allows for the most accurate data and control over the flow of goods to and from stores and warehouses. Minimizing over and under-stocking issues by automating stock replenishment, enhancing customer satisfaction. Smaller retailers can benefit from source tracking if their partners also agree to adopt RFID.
Loss Prevention
Inflation and the rising cost of food are contributing to increasing instances of theft in retail. Traditional security methods such as barcodes and EAS security tags are not sufficient to combat this trend. Barcodes are for product identification and are not suitable as a security measure. EAS security tags are effective at setting off alarms but require a member of staff to remove them at the checkout, not compatible with the self-service trends of today.
RFID technology offers a promising solution by combining the benefits of both. Each product is uniquely identified and can be remotely tracked, functioning as a security tag that does not need to be removed and a remotely scannable barcode. This addresses both intentional and accidental theft, as staff can be alerted if any items leave the store without being paid for. RFID technology brings efficiency and security to loss prevention in retail, improving the overall shopping experience for both customers and retailers.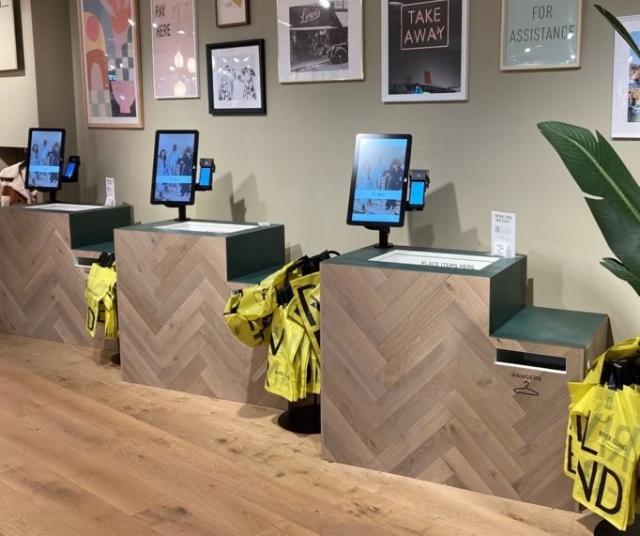 Customer experience
From a customer experience perspective, RFID makes the sometimes-awkward blend of digital and analogue shopping a lot more seamless. Real-time tracking allows you to check what products are in store before you go, and app-based maps can lead you right to it. No more scanning your items one by one, just place your bag in the check-out well, a quick swipe of your card and you're ready to go.
SpacePole Inc
The seamless implementation of an RFID solution relies on multiple companies' collaborative efforts and expertise. SpacePole Inc, renowned for their hardware mounting capabilities, collaborated with Keonn, a leading provider of RFID technology, within an ecosystem of partners led by Mercaux to successfully deploy a pilot installation for River Island. The outcome surpassed expectations, with the solution now handling an impressive 70% of point-of-sale transactions at their flagship UK store.
We have also been actively involved in various other RFID projects, including a notable collaboration with HP. Demonstrated at the EuroCIS trade show in Dusseldorf, Germany in February 2023.
Our modular, configurable, and customizable mantra lends itself perfectly in the enablement of RFID self-checkout solutions for fashion and speciality retail.